Heavy duty workbenches provide the advantages of conventional workbenches on a sturdier and bigger scale. They are made to withstand heavy-duty tasks and are built with metals that are made for tough conditions, like steel.Read More…
Heavy Duty Workbenches
A heavy duty work bench can be very convenient in an industrial or commercial setting where you need to work on things at waist level and you need enough space to lay out tools or equipment.
There are many types of heavy-duty workbenches that can offer the proper features and durability for any industrial setting or lab. A heavy-duty workbench is built to be strong and tough for manual tasks. They can be very basic and flat surfaces, or they can be more multifaceted and regarded as tools themselves. Choosing the proper type of heavy-duty workbench depends on the type of work to be done.
Types of Heavy-Duty Workbenches
The different types of heavy-duty workbenches include:
Multipurpose Workbenches
This heavy-duty workbench is light, small, and collapsible. They commonly have built-in clamps so they can be carried around. These workbenches can be applied for a wide range of manual work.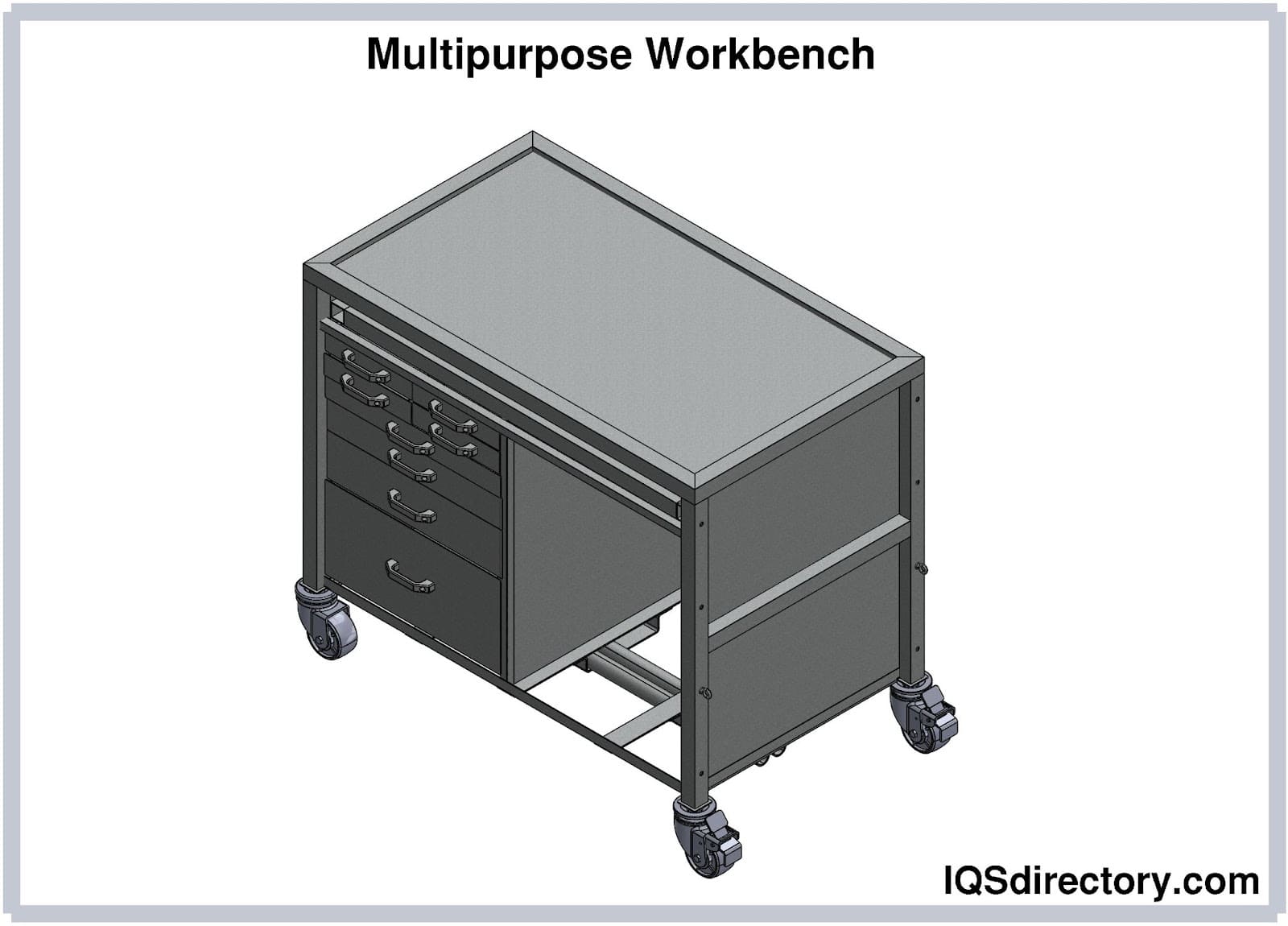 Woodworking Heavy-Duty Workbenches
This heavy-duty workbench is more for general woodwork. It can be applied for specialized carpentry, carving, trim work, and plenty more. Bigger workbenches can be applied for stair building. These workbenches are generally made from solid wood and have essential mechanisms for clamping.
Metalworking Workbenches
Heavy-duty workbenches utilized for metalwork must be constructed strong enough to bear grinding, welding, and light casting. Most of these workbenches also feature a metalworker's vise fixed at the top.
Electronics Workbenches
These heavy-duty workbenches are commonly for repairing electronics, varying from computers to home entertainment equipment. Electronics workbenches generally have a built-in power source and additional lighting. These workbenches are commonly set at a height for seated work.
Gardening Workbenches
These heavy-duty workbenches are constructed from materials that can handle dirt and moisture. These workbenches may be utilized for grooming, seeding, and potting and usually have useful built-in storage options.
Assembling and Fitting Workbenches
These workbenches have sufficient space for layout and can have built-in measuring devices and tools. They are used by electricians, textile workers, piece workers, and many others.
Laboratory Heavy-Duty Workbenches
Laboratory heavy-duty workbenches are used for biological and chemical work. These benches are often built out of slate, and most include water and fuel sources. Other laboratory workbenches have tables with and without storage, tables with both storage and a sink, portable workbenches, and microscope workbenches.
Clean Air Heavy-Duty Workbenches
This heavy-duty workbench utilizes filtered air flow in an enclosed workspace. The filtered air makes a sterile environment to protect samples and lab workers from airborne contaminants. Different airflow choices are available, including vertical and horizontal, and each is appropriate for different laboratory tasks.
Tilt-Top Heavy-Duty Workbenches
This type of workbench is constructed for applications that require a tilted surface, like drafting. These tables also offer ergonomic support. Surfaces can be configured manually (standard) or by a hydraulic lift hand crank or motor.
Vibration Damping/Isolation Workbenches
This type of heavy-duty workbench protects sensitive devices from vibrations from industrial machinery. Vibration protection is created through both the leveling feet and granite table top. These tables are beneficial when working with control scales, analytical balances, spectroscopes, microscopes, and other special laboratory equipment.
Adjustable Height Heavy-Duty Workbenches
Adjustable Height Heavy Duty Workbenches are beneficial if more than one worker will be utilizing the workbench. These tables can be lowered or raised manually or using hydraulic handles. Adjustable height helps prevent workplace injuries like muscle strains.
Stainless Steel Heavy-Duty Workbenches
Stainless steel industrial workbenches are known to be durable, strong, and easy to clean. Steel is also resistant to scratches, stains, heat, impact, corrosion, and bending, making it apt for various situations.
Advantages of Heavy-Duty Workbenches
The advantages of heavy-duty workbenches are as follows:
Save Space and Increase Storage Capacity: An open base model keeps tools and materials at the workstation.
Resistant and Durable:Heavy-duty workbenches are stronger than regular workstations. Twelve gauge heavy-duty steel can endure exposure to toxic chemicals. Selecting a hardboard finish over a stainless steel surface or a reinforced heavy-duty steel top increases the workbench's resiliency.
Ergonomic for Enhanced Employee Approval: Useful accessories can be added to reduce the need for additional tables and stools. A bench must be ergonomic for employees to work for extended periods without fatigue.
Choosing the Correct Heavy Duty Workbench Manufacturer
To make sure you have the most beneficial outcome when purchasing Heavy Duty Workbenches from a Heavy Duty Workbench Manufacturer, it is important to compare at least 5 or 6 Suppliers using our list of Heavy Duty Workbench manufacturers. Each Heavy Duty Workbench Supplier has a business profile page that highlights their areas of experience and capabilities and a contact form to directly communicate with the manufacturer for more information or request a quote. Review each Heavy Duty Workbench company website using our proprietary website previewer to get an idea of what each business specializes in, and then use our simple RFQ form to contact multiple Heavy Duty Workbench companies with the same message.
Heavy Duty Workbenches Informational Video